Alumni Spotlight: Carl Morgenstern JD '48
In his 1982 New York Times bestseller Hometown, Peter Davis (AB '57) described Carl Morgenstern (JD '48) as being "Mephistopheles on a moral mission" . . . .
[It is with tremendous sadness that we report that Carl Morgenstern, age 90, passed away Sunday, February 19, 2012. The Harvard Alumni Association offers its deepest condolences to Carl's family, friends and colleagues. His kindness, generosity, humor and loving spirit will be greatly missed.]
---
"Dad has never forgotten the free opportunities he had growing up as the son of immigrants in Cleveland: a great public school education and public tennis courts across the street from his home where he became an excellent tennis player, a sport he has loved all his life," said his daughter, attorney Barbara Morgenstern of Wyoming, Ohio.



Most importantly, as a World War II veteran who served in Europe, the GI Bill paid for Carl Morgenstern's Harvard Law School education just decades after his parents emigrated from Kapulia, Russia in the 1920s, his daughter said. With that world-class education, Mr. Morgenstern embarked on a lifetime of giving back to the community.

"Dad was a community organizer and more often than not, a community agitator," she said. "All with good humor. His campaign symbol was a bulldog, and that really seemed to fit."

His son, attorney Michael Morgenstern of Bethesda, Maryland, describes his father's most important legacy: "Sure, Dad has extraordinary credentials and many accomplishments. But his life's message, and the one that has carried him forward for 90 years, is one of love. Dad loved his work as a trial lawyer, he loves his country and he loves, unconditionally, his family. It is the best message that a father can teach a son, and he taught by example."

"Over the years, Carl taught many people how to use the law to get the politicians to do what was right for the people of Butler County, Ohio" rememberes CLEAN (Citizens Lobby for Environmental Action Now) member Patty Thomas, who describes Mr. Morgenstern as an "all-around environmentalist way before the general public understood the importance of preservation. We all learned how to insist that laws be enforced. He was our 'Bull Dog' and he never gave up when he got hold of an issue that needed attention. We were just happy to have his energy and enthusiasm working on our side of the issues and not against us."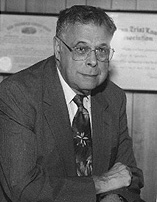 Mr. Morgenstern also was featured in the book, "Hometown," by Peter Davis (AB '57), an Academy Award winner who wrote about the small town after immersing himself in Hamilton for six years. The chapter featuring Mr. Morgenstern was excerpted in The Village Voice.

"Morgenstern framed his questions like the short sharp jabs of a hungry welterweight," wrote Mr. Davis, who attended a much-publicized, sometimes salacious hearing where Mr. Morgenstern represented the school board. The board had fired a popular high school choir teacher who had been arrested for public indecency. "[I]t was the law itself he loved, and the contest," Mr. Davis wrote. "…Morgenstern had dark, resolute eyes and his hair, at fifty-seven, was still black. His mouth was firmly set, though he smiled easily, a cheerful egoist whose sense of humor was always playing tricks on his determination. Between his thin upper lip and his precise, assertive nose was a wide space that lent him the authoritative aspect of a Spanish grandee. At the Shie hearings, Morgenstern hid his twinkle behind dark glasses, resembling, for the duration, Mephistopheles on a moral mission."

Mr. Morgenstern was born in Charleston, West Virginia in 1921 where his Russian parents, Henry and Lilien Morgenstern, joined relatives after making the journey to the United States. The family eventually settled in Cleveland, Ohio, where his father worked as an electrician.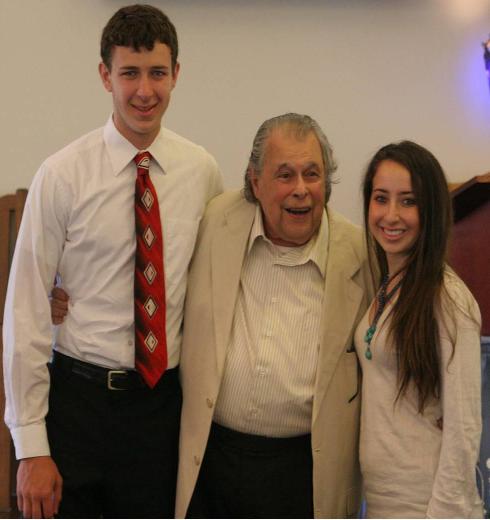 "My grandfather's inspirational life work has been a great motivator for me," said his granddaughter Beth Krumbein, 21, a pre-law junior at the University of Arizona. "He has always been a strong presence in my life and those around him and I will always remember his one-of-a-kind personality that he is known for."

His grandson, Scot Krumbein, 19, a freshman at Indiana University, said he feels lucky that "Grandpa Carl always has been there for me. He's always someone I could look up to and has passionately lived his life. I hope when I get to be Grandpa's age, I'll have his spirit and willpower."

His grandchildren from Bethesda, Md., also described the closeness they feel to their grandfather.

"Grandpa always gave me really good advice about my tennis," said grandson Akira Morgenstern, 9. "He always told me, 'You can never learn something if you always win. If you lose you will learn and the next time you play your opponent, you will win! His words of wisdom gave me a head start on everything."

Said his 15-year-old granddaughter Emiko Morgenstern, "My Grandpa has inspired me to do my best and motivates me to try my hardest. He understands me. He can relate to me and he can communicate to me in a way no one else ever can. When he gave me a gold Star of David necklace for my bat mitzvah, it was not the gift that was so memorable, but the words that came along with it. He told me to 'take hold of the Golden Ring.' Because of my Grandpa, I will continue to strive to reach my goals and always keep looking for my opportunity to take hold of that Golden Ring."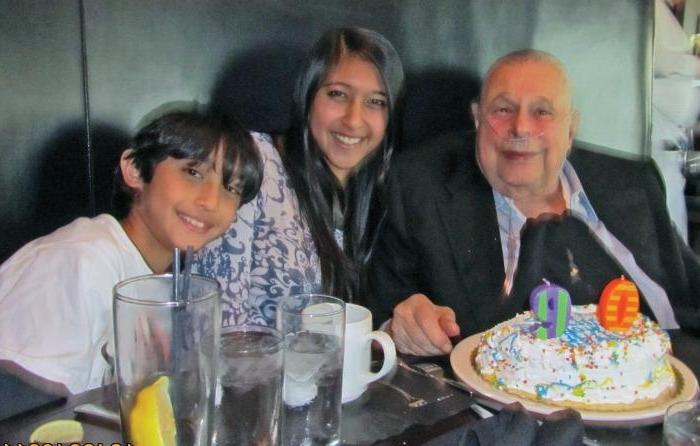 With his much-beloved wife, Marilyn, Mr. Morgenstern created a warm and open home in Hamilton, Ohio where the couple's many friends often gathered for spirited political debates or to relax after tennis, always accompanied by good food.

Several years after his wife's passing, he reunited with Rose Werney of Detroit, whom he had known in Cleveland when he was a young man.

Mr. Morgenstern operated his own general practice law firm in Hamilton for more than 50 years and was known for taking controversial cases. His clients from every walk of life adored him and trusted him implicitly to do the right thing for them from cradle to grave. Sometimes clients brought homegrown produce to the office and it was not surprising when a couple of modest means, who sought Mr. Morgenstern's help to adopt a baby, named their son "Carl" after their trusted attorney.

"Carl and I have been friends for at least 40 years or more," said photographer Jack Woods, who turned to Mr. Morgenstern for everything from leases for his business to adoptions in his family. "He is in my heart a great and wonderful friend who I will always treasure. He has taken me and our family through many difficult situations."

A leader in the bar and a mentor to many young lawyers, Mr. Morgenstern was president of the Butler County Bar Association in 1979 and a member of the Ohio State Bar Association's Executive Committee.

Judges frequently called on Mr. Morgenstern to serve as a mediator in difficult cases.

"Carl was frequently involved with what I called 'lost causes' but somehow he, through his persistence, converted these 'lost causes' to causes celebre," said Retired Judge John Moser of the Butler County Common Pleas Court. "I told Carl more than once he took cases where angels would fear to tread. Principle was his motivator."

Public education was Mr. Morgenstern's passion. For ten years in the 1960's he served on the school board of the Hamilton City Schools. Later he served as attorney for the school board, developing a specialty in education law, which led him to teach the subject as an adjunct professor at the University of Cincinnati College of Law for nearly a decade.

Former Ohio Governor John Gilligan appointed Mr. Morgenstern as Trustee of Miami University in 1973. As a trustee, he captured headlines when he called for Miami to divest itself of stock holdings in South Africa because of his opposition to apartheid. Hugh Morgan, professor emeritus of English at Miami, remembers Mr. Morgenstern as a 'voice of conscience.' At a time when South Africa was still segregated, he led a drive by the trustees to demand the administration boycott the stock ownership of companies doing business with South Africa," recalled Professor Morgan. "I once talked to him at length about this and I was deeply impressed by his humanity."

Always student centered, Mr. Morgenstern relished being accessible to students during the turbulent 1970s and believed in finding justice through debate. He often quoted the saying "If everyone agrees, no one is thinking."


The Hamilton Journal News selected Mr. Morgenstern as a "Citizen of the Year" in 1997 and his nomination statement described him as a "fierce advocate for the citizens of Hamilton." Reflecting his love of tennis, Mr. Morgenstern served as president of the Ohio Valley Tennis Association and as grievance chair of the Western Tennis Association.


Mr. Morgenstern has been an ardent supporter of Israel and a life-long member of B'nai B'rith and Hillel. He was a founding member of Congregation B'nai Tikvah in Deerfield Township. He was the patriarch, principal benefactor and most importantly, trusted friend and counsel to the new congregation. Mr. Morgenstern always has been grateful to Jewish Family Service for helping his family through a crisis in the early 1950s. His wife Marilyn gave birth to their two children, both in 1952, and then contracted polio while Mr. Morgenstern was a struggling young lawyer in Hamilton. Jewish Family Service provided a nurse to take care of the babies and he always remembered how his wife Marilyn had to look down from her hospital room window to see her children on the sidewalk.

Carl remains an ardent supporter of Harvard as he has been for the last 64 years, and he is a passionate and devoted Harvard Law School alumnus.